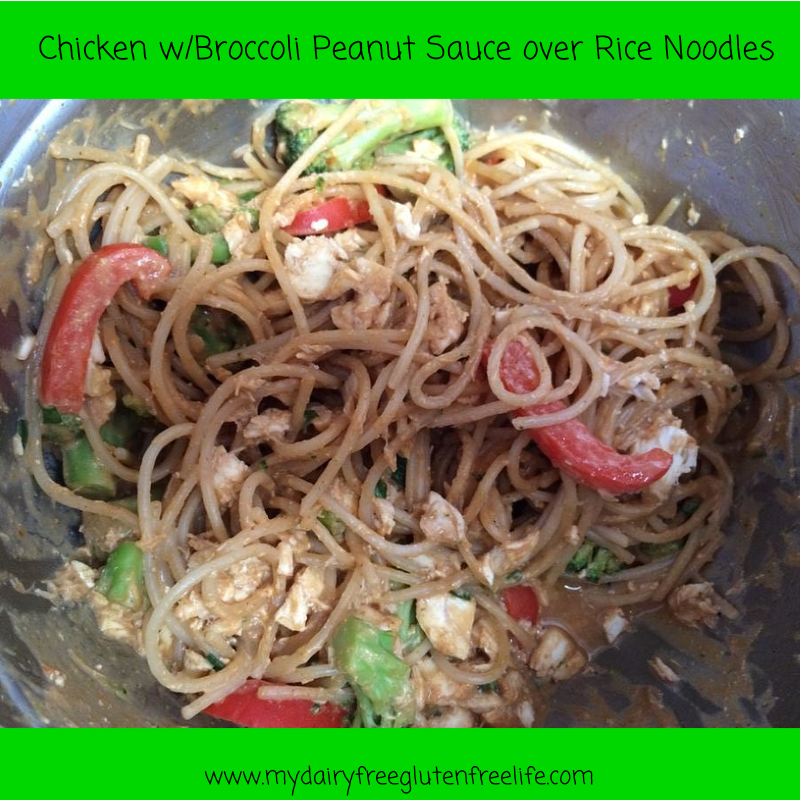 Chicken with Broccoli Peanut Sauce is so delicious and so easy to make.  In addition, we are always looking for something easy to make for dinner that is gluten-free and dairy-free for our grandson.  As as result, I use this quick chicken casserole often!
This Recipe using Rice Noodles, from Becky at Sew Need It, was modified from a Big Oven Recipe.   Since our grandson cannot have peanut butter,  we substituted sunflower butter!  But, if you can eat peanut butter, go for it!
Our grandson loves this Chicken with Broccoli Peanut Sauce meal. We modify lots of recipes, because of food allergies in our family.   For example, If you enjoy fish, the chicken can easily be substituted with a white fish.  And, if you are Vegan, you can use Butler's Soy Curls instead of chicken or fish, for example!   I hope you enjoy this simple flavorful recipe!
Recipe follows:
INGREDIENTS:
½ cup chicken broth
1/3 c hoisin sauce                                                                                                                                                                                                ¼ cup peanut butter creamy
2 tbsp rice vinegar
¼ tsp crushed red pepper
2 tsp dark sesame oil                                                                                                                                                                                            ½ cup green onions, chopped
1 lb chicken (or white fish) cut into bite-sized pieces                                                                                                                              2 bunch broccoli, steamed
1 ½ cup red bell pepper cut into strips
1 tbsp ginger, grated                                                                                                                                                                                            ½ green onions, chopped
1 tsp garlic, minced
1 pound rice noodles
PUTTING IT ALL TOGETHER:
Cook the noodles according to package directions, then drain and set aside.
Combine the broth and the next 5 ingredients in a bowl, and stir well with a whisk.
Heat 1 tsp oil in a large nonstick skillet over medium-high heat. Next add the chicken and sauté 4 minutes. Add your bell pepper and sauté 3 minutes, or until chicken is cooked through. Then, Remove the pot from heat.
Combine chicken mixture and noodles in a large bowl.
Heat 1 tsp oil in pan over medium heat. Next, add ginger and garlic and for cook 15 seconds. Stir in the broth mixture, and cook 30 seconds longer, stirring constantly. Add the broth mixture and ¼ cup green onions to the noodle mixture and toss well. Add in steamed broccoli and top with ¼ c green onions.