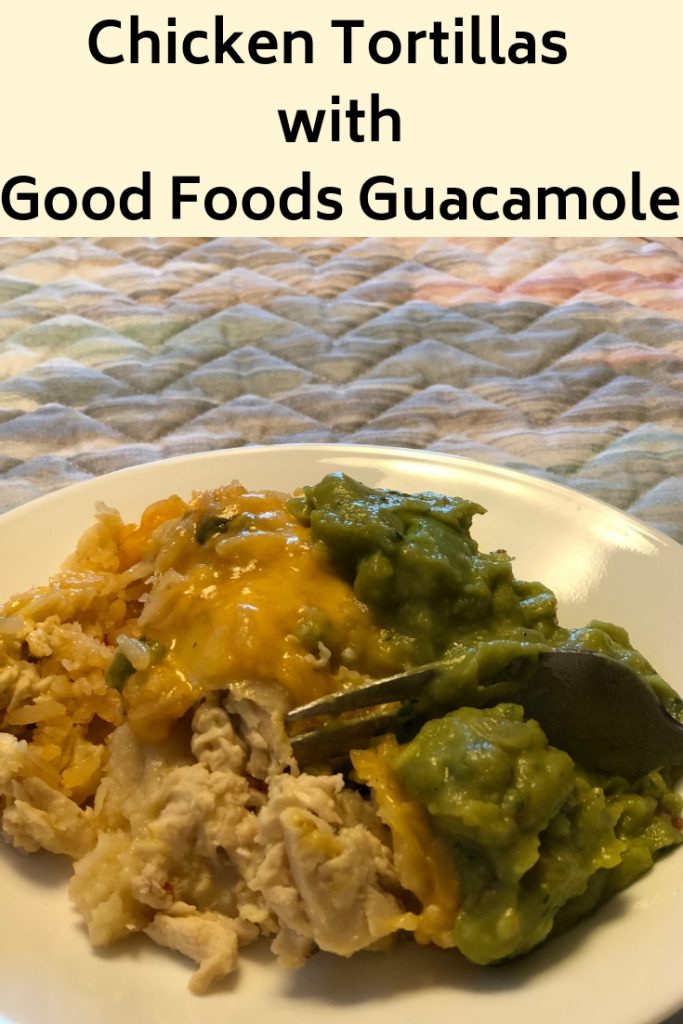 I love to share NEW product information! I just got to try Good Foods Guacamole and it absolutely slays all the other commercially prepared guacamole products out there, in my opinion! Let me tell you about my experience and share my honest opinion of Good Foods Guacamole.
My husband retired in June and this is our first year we are Snow-birding. We are in Arizona right now and I'm not doing much cooking. I am using fresh prepared foods from grocery markets and doing as little preparation as I have to. I was offered the opportunity to try a variety of guacamoles from Good Foods Guacamole. With all the Mexican foods that are available in Arizona, I thought this is the perfect time and place to try something new.
Good Foods Guacamole sent their products in a refrigerator box filled with cold ice packs, the product was very cold when we received it. Take a look at the delicious different flavors and products of Guacamole that was provided for us to try. The top product of the tree is a serving size of guac and chips! The bottom middle photo is guac in a 4 pack! All so delicious!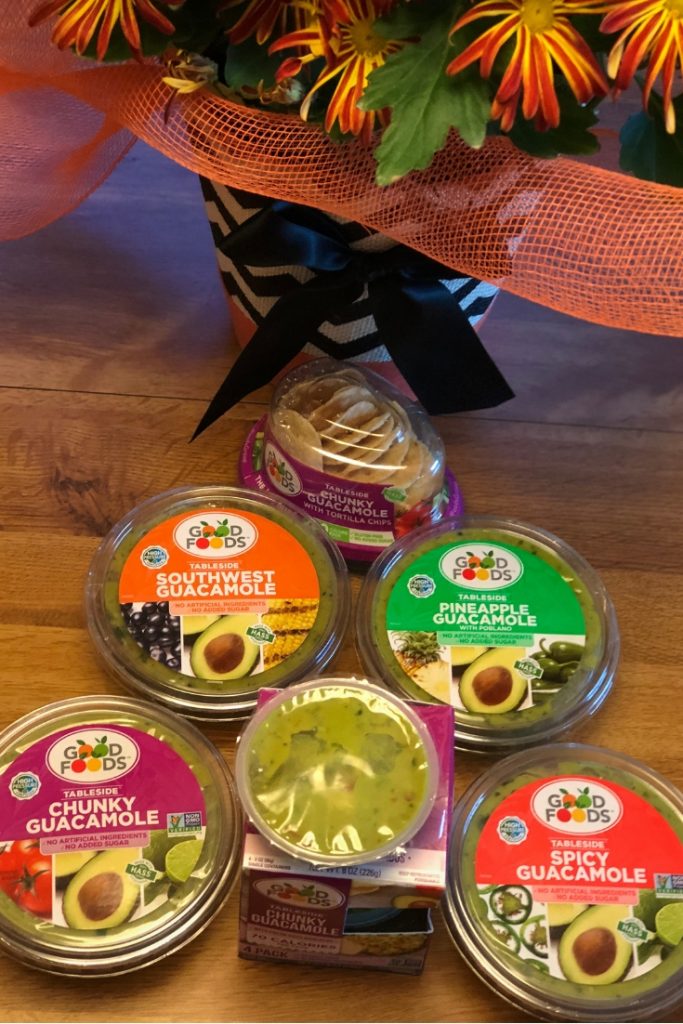 I tried these wonderful guacamoles by getting a hold of pre-made fresh chicken tortillas, wrapped in corn tortillas and covered in green chili sauce on top of rice. We also used some non dairy cheese to top the tortillas. The chicken was precooked so all I had to do was heat the tortillas and add some guacamole – 4 different flavors to be exact – and try them all and give you my honest opinion. Of course we had to try them on chips first!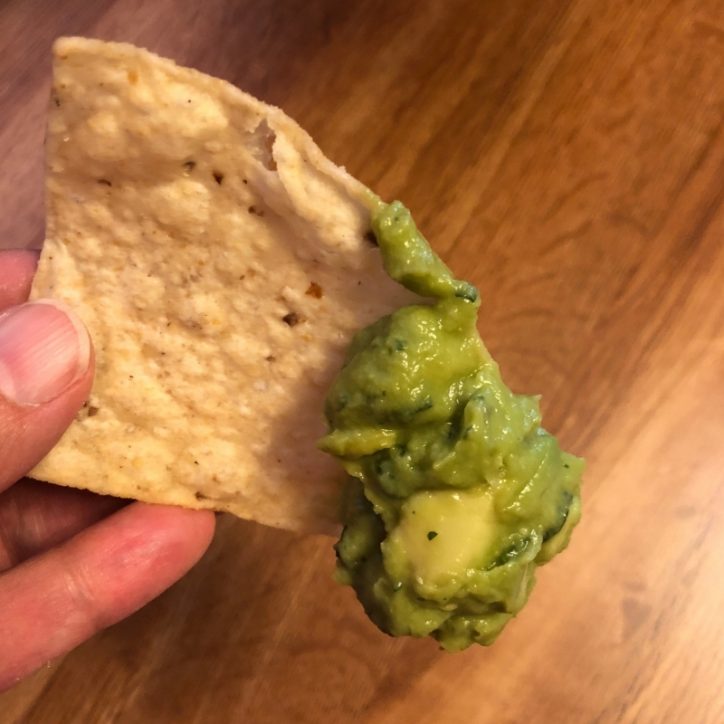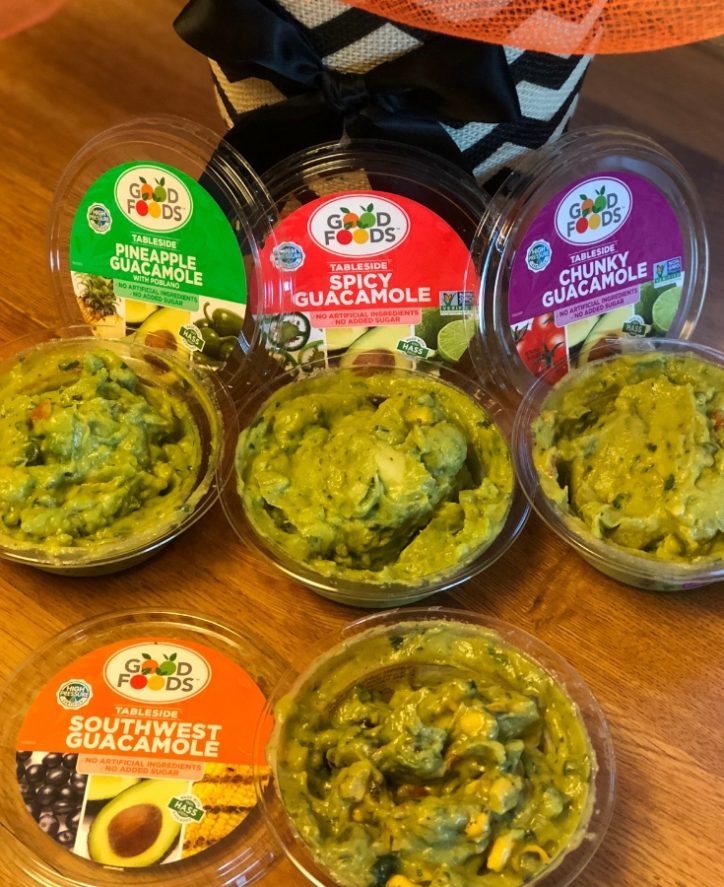 I mean, look at all these flavors to try! I want more chips to dip! The guacamole is fresh tasting with chunks of avocado and pieces of other veggies in the different flavors. Like corn and olives in the Southwest Guac, yum. I do not like hot spices so for me, the Spicy Guacamole was too hot for me. My husband said it was good but spicy. I guess it depends how hot you like your spice.
We tried all the flavors with the chicken tortillas and wow we both were surprised how GOOD the Pineapple Guacamole was with it. It adds a sweetness that just perfectly offsets the heat from the tortillas, yet you can't really tell it has pineapple! The Pineapple was both of our favorite guacamole. The Chunky Guacamole is just what you would expect, thick with pieces of avocado and just the right heat.
These guacamoles taste like the real thing freshly made from avocados! I would encourage everyone to go find Good Foods Guacamole and give it a try. Not only because it tastes good but also because Good Foods uses the newest technology of High Pressure Pasteurization (HPP) to preserve their food. One taste will tell you the quality of their food!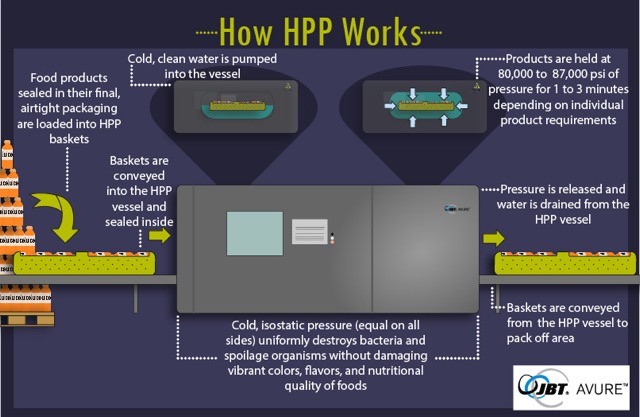 About HPP
HPP is cold pasteurization in pure water; it uses ultra-high pressure purified water to keep food and beverages pathogen-free and to stay fresh longer. Food and beverages are subjected 87,000 lbs. of pressure per sq. inch –– the same amount of pressure as six times the deepest part of the ocean. At this very high pressure pathogens are destroyed, but food's taste, texture and nutritional value is preserved.
About Avure /JBT Technologies
JBT/Avure is a leading global maker of HPP machines. JBT/Avure's HPP food processing machines offer the highest output, lowest operating costs, and greatest reliability for food producers and manufacturers. JBT/Avure helps producers increase food safety and extend shelf life while providing consumers with nutritious, natural, flavorful food. More information is available at https://www.avure-hpp-foods.com/ • Avure Facebook @AvureHPP or Twitter @AvureHPP.
#HPPGoodFoodsGuac #HappyHolidays
Enter To WIN
4 Winners of a Good Foods Guacamole Package
Package Includes:
2x 7 oz. Chunky Guacamole
2x 7 oz. Spicy Guacamole
2x 7 oz. Pineapple Guacamole
2x 7 oz. Southwest Guacamole
2x Chunky Guacamole 4 pack singles
1x grab & go
Total SRP of each prize package is $50
Disclosure: The bloggers participating in this event have been compensated for this post. Good Foods Guacamole will be sending the prize directly to the winner. This event is in no way associated with, sponsored, administered, or endorsed by Twitter, Google, Pinterest, Facebook or any other social media. The disclosure is done in accordance with the Federal Trade Commission 10 CFR, Part 255 Guides concerning the use of Endorsements and Testimonials in Advertising.