Chicken and Broccoli Pasta Recipe
Gluten Free
I have really missed good pasta since going gluten free. I have tried some brands and just wasn't too impressed and would rather just not have it.   Ronzoni asked me to try their gluten free pasta and I was delighted to!  And the best part is that my daughter in law made the recipe.  The pasta tasted normal and you can see how it holds up without mushing and has great mouth appeal! Halleluia!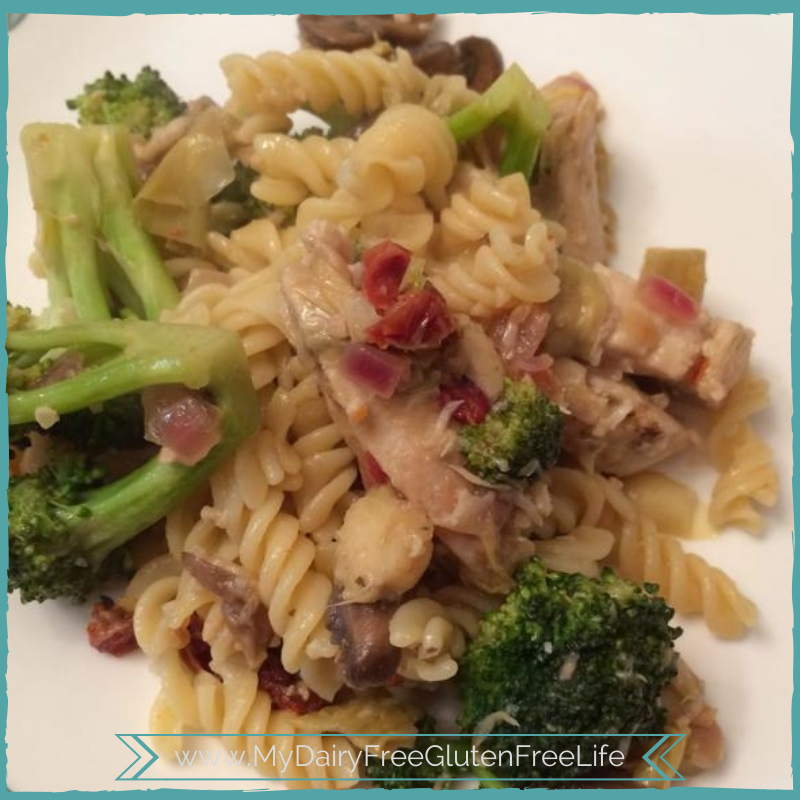 Here is the recipe my daughter in law made:
INGREDIENTS:
1 ½ tbsp extra virgin olive oil
2 small chicken breasts
½ tsp salt
1 cube chicken stock cubes
2 cups chopped broccoli
2 cloves minced garlic
¾ cup pieces or slices mushrooms
¾ cup artichoke hearts
½ cup sun dried tomatoes
¼ cup chopped onions
2 cups water
12 oz dried pasta
DIRECTIONS:
1. In a pot, start boiling water and add some salt. Add pasta to cook when the water starts to boil.
2. In another small pot bring to boil 2 cups water and chicken stock cube.
3. In a non-stick pan add olive oil and garlic and onion.
4. Once garlic and onion are golden, add chicken, mushrooms, and artichoke hearts, and cook until chicken is browned, adding salt and also chicken stock from the broccoli to keep moist.
5. Drain broccoli, and combine with chicken in pan
6. Add sun dried tomatoes to chicken mixture.
7. Drain the pasta, and combine in a large bowl with the chicken mixture.
8. Serve and enjoy!
Thank You Ronzoni!  Check out their recipes on their site.