I want to share with you the Best Ever ColeSlaw Salad Recipe that is a go to for our family weekly.  We often use this salad as a complete dinner!   Are you looking for an easy, quick, healthy side dish or main dish?  This ColeSlaw Salad is your answer and you can change it up so it's always a bit different.
The basic ingredients are: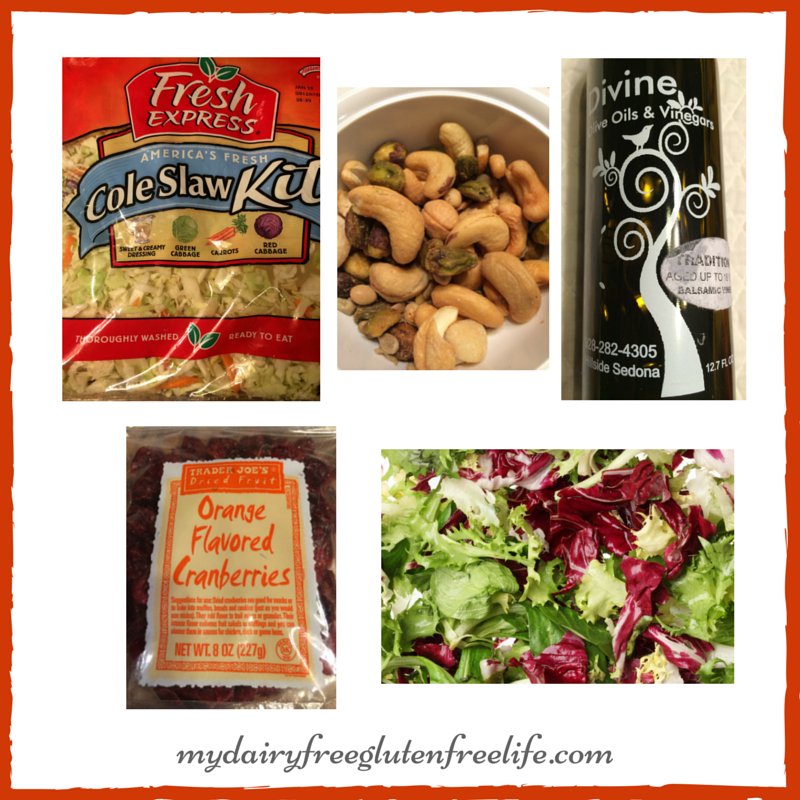 Looking at that photo of our balsamic vinegar, it looks very well used and I am going to have to order some more!  When we were in Sedona, AZ we stopped at the Divine flavored 0live 0ils and vinegars shop.  Their Traditional Balsamic Vinegar is the best we have tasted anywhere!  It is aged 20 years.  I highly recommend stopping at a shop if you can where you can taste all the flavored oils and vinegars. They have opened up a world of flavor in our cooking!
In making this salad, you could use your own dressing if you prefer not to use a pre made one.  This dressing that comes with the coleslaw kit happens to be dairy free and gluten free.   We have occationally made our own dressing using flavored oils and vinegars.    You can also change this up by adding different salad greens.   I happened to have some baby greens so I added them.  I often add spinach and arugula which gives it a bit of a bite.   We always add crushed nuts and or seeds, depending on what we have on hand.
Below are our main ingredients.  But experiment we love the orange flavored cranberries, you only need to throw in a dozen.
Best Ever ColeSlaw Ingredients:
1 package Pre-made Coleslaw with dressing.

Nuts – 1/4 cup crushed

Peppers – 1 yellow chopped fine

Mixed salad greens- couple handfuls

Dried Fruit – 12 pieces

1 Avocado – diced

Balsamic Vinegar – 1 Tablespoon ( mixed into the pre made dressing that comes with the coleslaw )

OR Optional of your own dressing