A Beginner's Guide to Decanting Wine
You could be forgiven for thinking that decanting wine is something only butlers do in period and costume movies, that it is a thing of the past and no longer relevant to today's wine connoisseurs, but you would be wrong. There is actually a very good reason why wine is best when decanted, and it is a technique any wine beginner should learn and understand.
Explaining decanting
Firstly, let us examine what decanting is. Decanting is, at its most basic, the pouring of wine from one vessel into another. This is usually from a bottle into a decanter, and it is from the decanter that the wine is then served. In some instances, such as in a high-end restaurant, the decanted wine is then decanted back into the original bottle for serving, so that the customer can see and read the label.
What does decanting do?
So why bother with this process? What exactly does the act of decanting do for the wine? It is important first to know that not every wine needs decanting. For most connoisseurs, only wines that produce a lot of sediment, such as vintage port wines and aged red wines, should be decanted. The decanting process separates the sediment, which would be unpleasant to drink, from the wine, thereby providing a cleaner taste, one that is not so astringent. Decanting such wine means that the sediment remains in the bottle, which also has an aesthetic appeal, because the wine left in the decanter and a drinker's glass is much clearer.
Aeration
The second reason for decanting is that it aerates the wine. Many young wines will not exude their aroma when initially opened, so when the wine is poured from the bottle into the decanter, it is able to take on oxygen. This oxygen 'opens up' the wine's aroma and increases its flavor. Certain wines, for instance those with a high tannin content, will reap the biggest benefit from being decanted.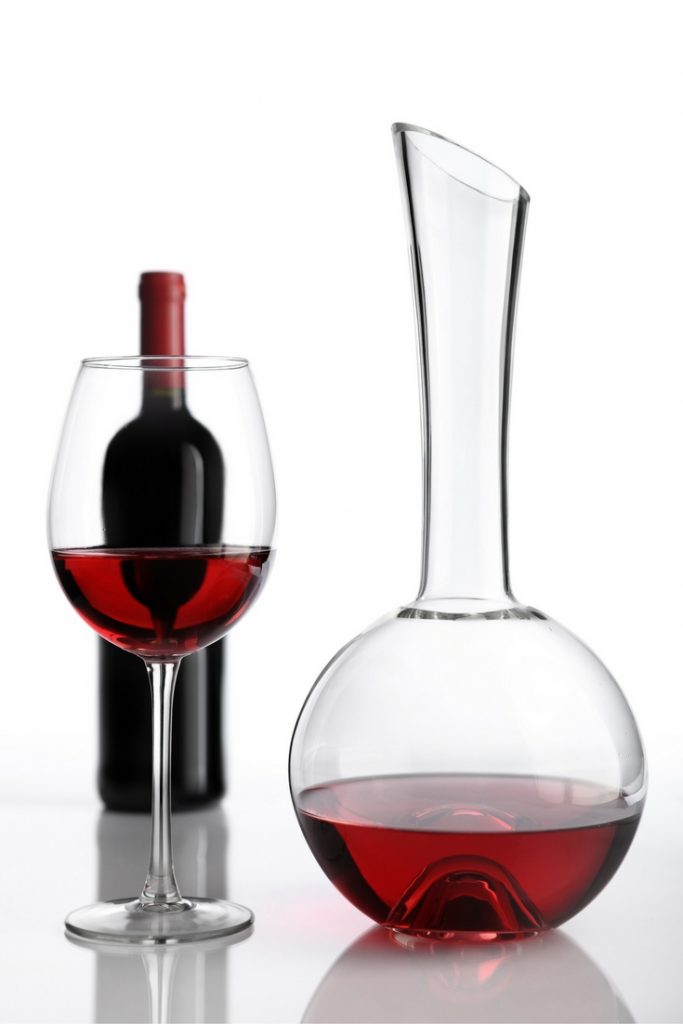 Decanting equipment
Not a great deal of equipment is needed to decant wine. Essentials are, of course, decanters and carafes, carafes being an alternate serving vessel to decanters, as they are often wider-bodied but take up less room on a dining table. Some people like to decant over a candle, as the candle flame makes it easier to see the sediment in the bottle. A wine cradle is essential kit, as this will help to keep the bottle horizontal, vital for ensuring the sediment does not creep up the bottle's neck and into the decanter. You will also need a cloth to clean the neck of the bottle. Which type of decanter to choose depends on personal taste. A clear crystal decanter allows the decanted wine to be seen at its best, but colored decanters or those with decoration add a bit of interest.
Which wines to decant?
When people think about decanting, it is often red wine that comes to mind, but there are occasions when it is beneficial to decant white wine. Some of the higher-end white wines that have a tendency to age should be decanted, otherwise their flavor may be affected if drunk straight out of the bottle, but it is true that young white wines do not need to be decanted. There is a school of thought that decanting cheaper wines makes them taste a lot better, allowing that just-opened smell, which can be a little off-putting, to dissipate.
Surprisingly, sparkling wines and even champagne can benefit from decanting. Some people feel that the bubbles are too strong if the wine and champagne are drunk out of the bottle, so decanting gives the bubbles a chance to reduce their intensity, although some might say this is the sole reason for drinking champagne, to experience the bubbly sensation. Some older, vintage champagnes have also developed more complex aromas and flavors than their younger counterparts, so decanting allows for these to become more well-rounded on the palate.
And when to decant? Ideally, no more than a few hours before you are due to serve the wine. A young wine, one that has little or no sediment, can be decanted as little as 20 minutes before serving. However, some older wines may actually suffer if they are decanted too early, as they will be overexposed to oxygen, so only decant these types of wine immediately before serving.
Decanting plays an important role in the enjoyment of drinking wine, helping to bring out its flavor and improving its appearance, so much so, that for the beginner wine connoisseur, a decanter should be considered an essential piece of kit.
Let us know if you have any other tips for decanting in the comments!