The ULTIMATE Plant Based Meal Plan
If you're trying to clean up your diet in the New Year, you might be wondering if a plant based meal plan is for you. A plant based meal plan can help you drastically reduce the amount of junk you're putting in your body, and it's a great way to get back to whole, real foods. If you've ever seen the movie Forks Over Knives, you've probably got a good idea what a plant based meal plan looks like. If not, I highly recommend it to get a better understanding of how a plant based diet works!
To help you making the switch to a plant based diet, I've included a plant based meal plan for you!  Below are links to all the recipes found in the meal plan listed below so you can easily click through and print for the week. If you plan to continue the plant based meal plan for weeks after, you can refer back to these recipes often and keep them in your recipe repertoire. All recipes notated with (L) mean "leftovers". Using up your leftovers for lunches or dinners the next day can drastically help you reduce food waste, as well as keep your grocery bill nice and low! It also gives you a little break from cooking instead of having to create a new meal 3 times a day.
If you enjoyed the movie "Forks Over Knives", there's also a great book that is very resourceful you can buy to help you along your plant based meal plan journey and lifestyle change! There are over 300 recipes in the book so you're sure to find plenty of new meal ideas to help you continue plant based eating all year long, and beyond!
Here is a 7 day Plant Based Diet Meal Plan with menus and recipes to get you through the week!  Click on the links below the menu for each recipe, enjoy!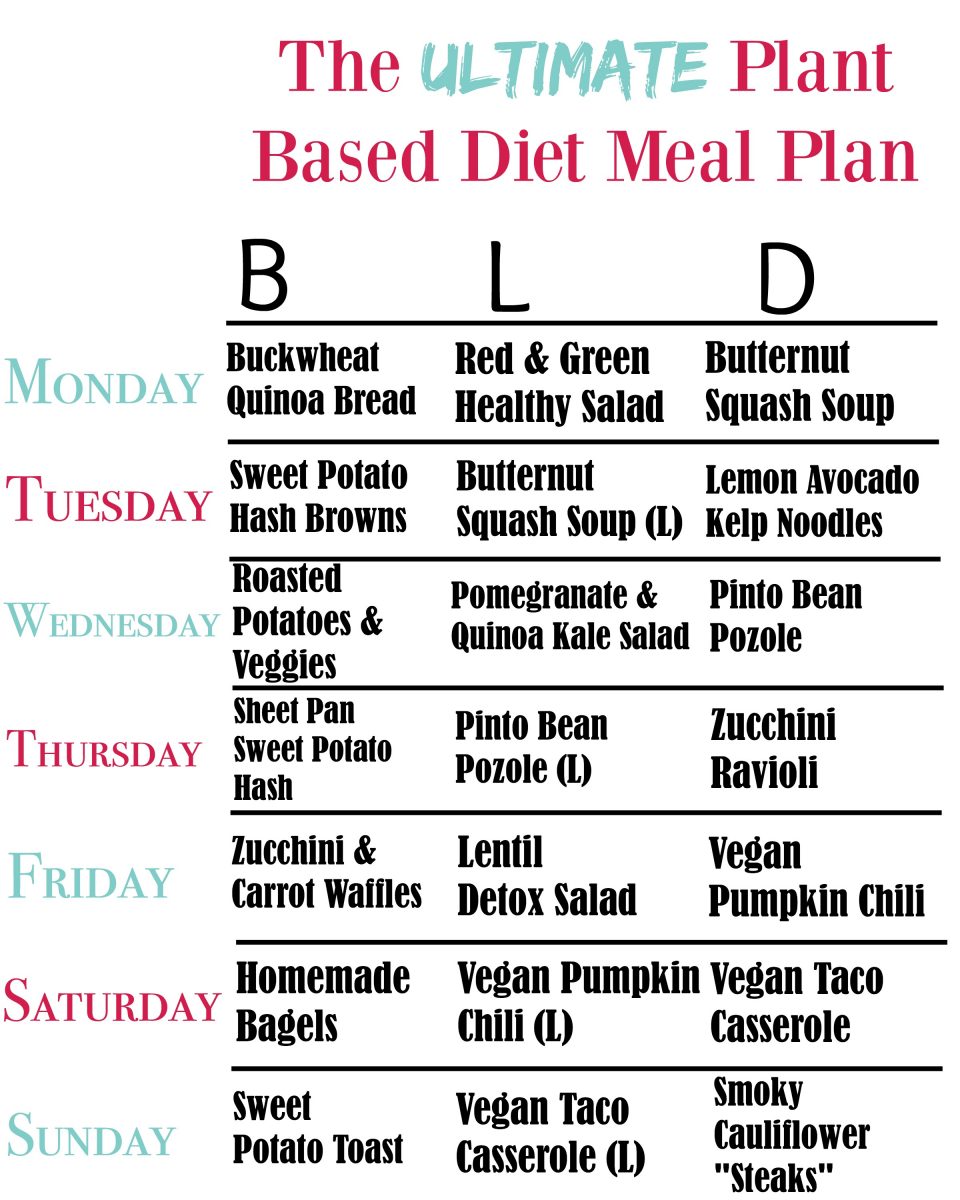 Breakfast:
1. Buckwheat Quinoa Quick Bread
2. Sweet Potato Hash Browns
3. Roasted Potatoes & Veggies
4. Sheet Pan Sweet Potato Paleo Hash
5. Zucchini & Carrot Waffles
6. Homemade Allergy Friendly Bagels
7. Sweet Potato Toast
Lunch:
1. Red & Green Healthy Salad
2. Leftover Butternut Squash Soup
3. Pomegranate & Quinoa Kale Salad
4. Leftover Pinto Bean Pozole
5. Lentil Detox Salad
6. Leftover Vegan Pumpkin Chili
7. Leftover Vegan Taco Casserole
Dinner:
1. Butternut Squash Soup with Crispy Brussels Sprouts
2. Lemon Avocado Kelp Noodles
3. Pinto Bean Pozole
4. Zucchini Ravioli
5. Vegan Pumpkin Chili
6. Vegan Taco Casserole
7. Smoky Cauliflower "Steaks"
If you have any questions about this plant based meal plan, or just want to discuss it with others taking the same path, please leave a comment below!