Disclosure: This post contains affiliate links, which means that if you click on one of the product links, I'll receive a small fee to keep this blog running.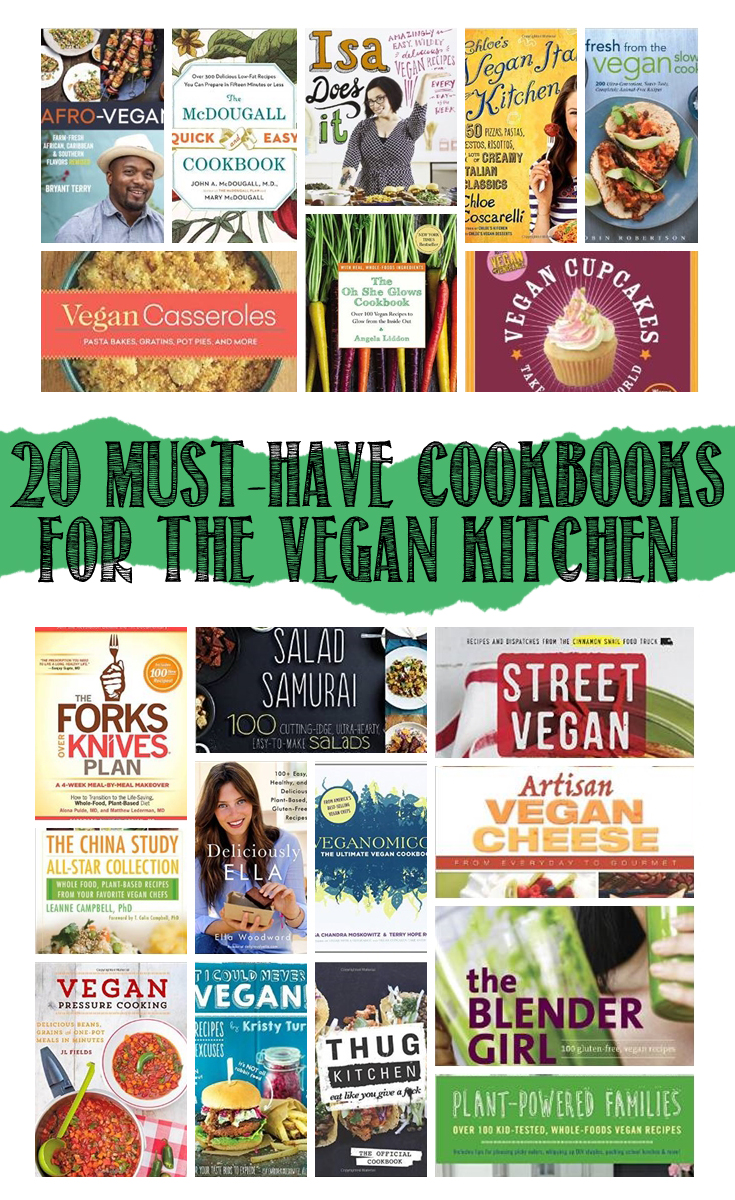 Want some inspiring Cookbooks for Vegan or Plant Based meals?   I have some fun books in this Vegan Cookbook Collage!   I have over 4 shelves full of cookbooks. Most of my Cook Books are Vegan, Gluten-Free, Dairy-Free or combinations there of.  I do have some Paleo Cookbooks also.
There are so many great cooking guides out now that give healthy information as well such as Forks over Knives Plan, The China Study All-Star Collection and McDougall's Quick and Easy Cookbook.  I highly recommend these 20 cookbooks, pictured above, for Vegan and Plant Based Recipes!  I also have another list of my favorite Vegan Cook Books in my Pantry you can click HERE to check those out. You can never have too many cooking guides!
20 Must-Have Cookbooks for the Vegan Kitchen
Thug Kitchen: The Official Cookbook: Eat Like You Give a F*ck
The Oh She Glows Cookbook: Over 100 Vegan Recipes to Glow from the Inside Out
Deliciously Ella: 100+ Easy, Healthy, and Delicious Plant-Based, Gluten-Free Recipes
The Forks Over Knives Plan: How to Transition to the Life-Saving, Whole-Food, Plant-Based Diet
Veganomicon: The Ultimate Vegan Cookbook
Isa Does It: Amazingly Easy, Wildly Delicious Vegan Recipes for Every Day of the Week
Plant-Powered Families: Over 100 Kid-Tested, Whole-Foods Vegan Recipes
Fresh from the Vegan Slow Cooker: 200 Ultra-Convenient, Super-Tasty, Completely Animal-Free Recipes
Chloe's Vegan Italian Kitchen: 150 Pizzas, Pastas, Pestos, Risottos, & Lots of Creamy Italian Classics
But I Could Never Go Vegan!: 125 Recipes That Prove You Can Live Without Cheese, It's Not All Rabbit Food, and Your Friends Will Still Come Over for Dinner
Salad Samurai: 100 Cutting-Edge, Ultra-Hearty, Easy-to-Make Salads You Don't Have to Be Vegan to Love
The China Study All-Star Collection: Whole Food, Plant-Based Recipes from Your Favorite Vegan Chefs
The Blender Girl: Super-Easy, Super-Healthy Meals, Snacks, Desserts, and Drinks–100 Gluten-Free, Vegan Recipes!
Street Vegan: Recipes and Dispatches from The Cinnamon Snail Food Truck
Artisan Vegan Cheese
Vegan Casseroles: Pasta Bakes, Gratins, Pot Pies, and More
Afro-Vegan: Farm-Fresh African, Caribbean, and Southern Flavors Remixed
Vegan Pressure Cooking: Delicious Beans, Grains, and One-Pot Meals in Minutes
The McDougall Quick and Easy Cookbook: Over 300 Delicious Low-Fat Recipes You Can Prepare in Fifteen Minutes or Less
Vegan Cupcakes Take Over the World: 75 Dairy-Free Recipes for Cupcakes that Rule